Step by Step for Seller Onboarding
Updated by Dan Charbonneau
Seller Onboarding for Dropship - E-comm integration / Modern Seller
1) Create Account / Accept Account Invitation
There are two ways to get started with using Convictional.  If you have been invited by an existing partner to join our platform you will receive an email asking you to log in and create an account.  This email will show up in your inbox as outlined below: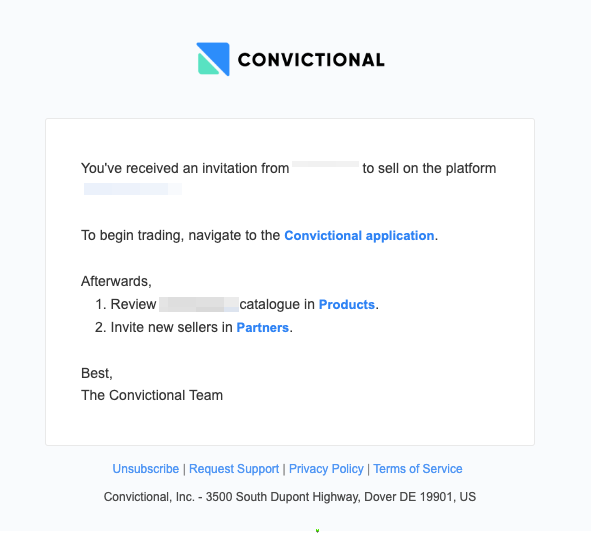 Once you have received that email, you can accept the invitation and proceed with Signing Up
If you have not received an invitation directly to your email, you can use this link to create your account.
2) Integrate Platform
Once you have created your account and logged in you can ensure that your ecommerce platform is integrated correctly so your products will upload to Convictional automatically.  The following ecommerce platforms are available to integrate:
You can follow the appropriate guide to connect your platform.  If you run into any issues with the integration please reach out to our support team at support@convictional.com.
Once you have connected your platform you will see your products sync within 1 hour.  In order for the products to sync properly they will need to be published and showing on the storefront of your platform.
3) Update Business Settings
Once you have your ecommerce platform integrated, and your products are in the process of being uploaded to Convictional you can proceed with updating the following settings:
Please make sure your company details including your URL are correctly listed in this section.
As a new feature we will now populate the Billing Address automatically using information we fetch from your platform. You can use this same address to populate both the Shipping and Returns address as well.

Please ensure that the Billing location is correct.  This address will be used to calculate the tax rate for invoicing partners if you do not use Stripe for invoicing.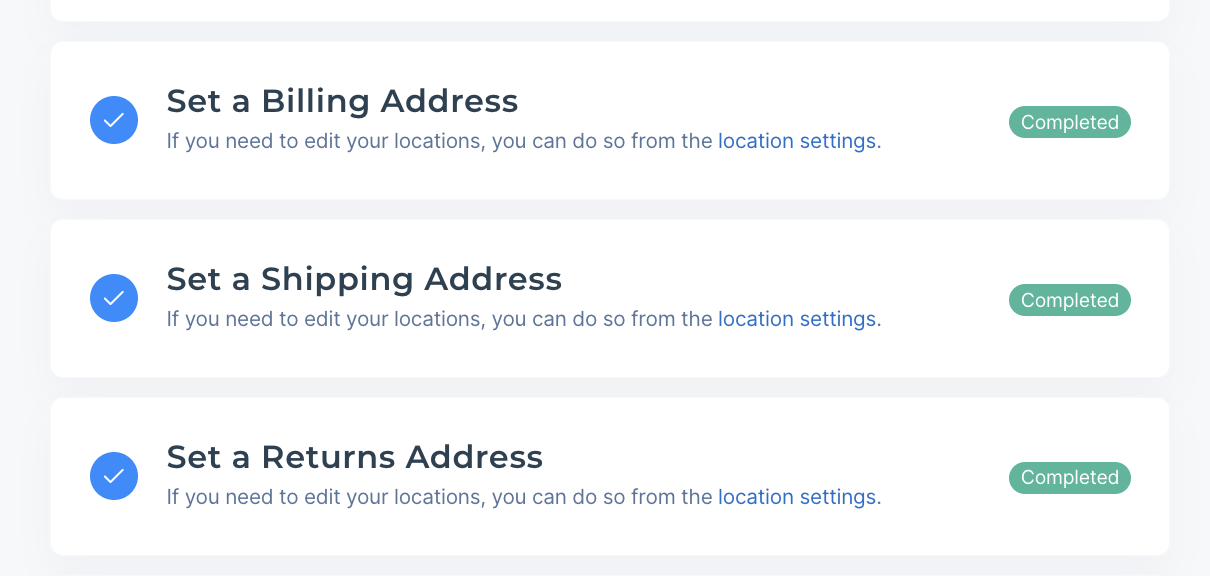 If you plan on invoicing your partners using Stripe please set up your Stripe account here.  Once your account is setup, any orders that get fulfilled for partners eligible to be invoiced through Stripe (see partners section to confirm eligibility) automatically.  Be sure to review our documentation on invoicing for a comprehensive guide.
Supported carriers and shipping methods can be outlined here.  Keep in mind that these rates do not sync to your partners platform in real time so any geographic exclusions must be communicated to your partner directly.
If you are interested in other selling opportunities with buyers on our platform please toggle this setting on and our team will contact you with any of these opportunities.
4) Add Partnership / Add Partnership Actions
If you accepted an invitation from your partner in Step 1, you'll already have your partnership set up so no need to complete this step.  If your Buyer is not showing in the Partners section then you can send them an invitation to an email they have listed in their Team Members.  If you are unsure which email to send the invitation to, touch base with your partner directly to confirm the best email.
Once you have established the partnership you can confirm any necessary agreements by using Actions sent through Convictional.  Common topics to cover on an agreement are:
5) Review Products and discuss merchandising strategy with your partner
By now your products should be showing in the Products tab of your Convictional dashboard.  Be sure to review your products to ensure they meet your partners merchandising requirements.  This may include:
Product details (SKU or barcode requirements)
6) Mark products not intended for sale as 'inactive'
To avoid products to your partner that you don't want listed on their website, go through the product catalog that has been synced over and ensure that products not intended for sale are marked as inactive.  For assistance with this process please see this guide.
7) Setup pricing for desired product catalog
Now that your products are uploaded you can proceed with pricing them.  To create a new price list visit the Prices section of your Convictional dashboard and create a  'New Price List'.  
There are some key settings to acknowledge on the 'Create a Price List' page and you will want to read all of the following support documentation before proceeding:
Once you have an understanding of the price lists you can fill out the settings on the creation page.  Because you have already toggled products to inactive that are not intended for sale we recommend pricing all products automatically rather than one by one.
Once the price list is created ensure that you have set the following settings appropriately:
If your margins are not consistent across the entire catalog you will need to update your prices one by one.  Before doing so ensure that the 'Ignore Product Updates' setting is toggled on.
8) Place a test order
Once the price list is created you can run a test order from the Get Started page.  See this document for a walkthrough of that process.
9) Order Fulfillment Protocol
When marking orders as fulfilled in your ecommerce platform you will need to include a carrier name and tracking number to successfully update the order status in Convictional.  If you don't include those details you will receive an error message in the Issues section of your Convictional dashboard.  If you do not send shipments with tracked rates, use a placeholder number for the tracking.  If you are integrated using WooCommerce you will need to use this plugin to update those fulfillment details successfully.
10) Invoicing Protocol
Once an order has been marked and fulfilled in your ecommerce platform it will update to 'Shipped' in Convictional.  
If you invoice through Stripe, the order will automatically be invoiced at this time.  The tax applied to the order must be set up from your Stripe dashboard.
If you invoice your partner external to Convictional, you will see an invoice total showing in the order page.  The tax applied to the order is calculated based on the Billing location you have set.
Any invoices where payment has failed will show up in the Issues section of your Convictional dashboard.  Stripe invoices that have failed can be retried directly from the Stripe dashboard.  If you received continued payment errors please contact the partner associated with the order.
11) Address any errors showing in the Issues section
Be sure to review any errors that show up in the Issues section.  Common errors include:
Issues with order syncing (out of stock, platform integration, missing carrier details)
Failed invoice payments
Price list errors
Instructions to resolve each error will be given on that issue.  Once an error has been handled you can mark it as archived using the option showing below: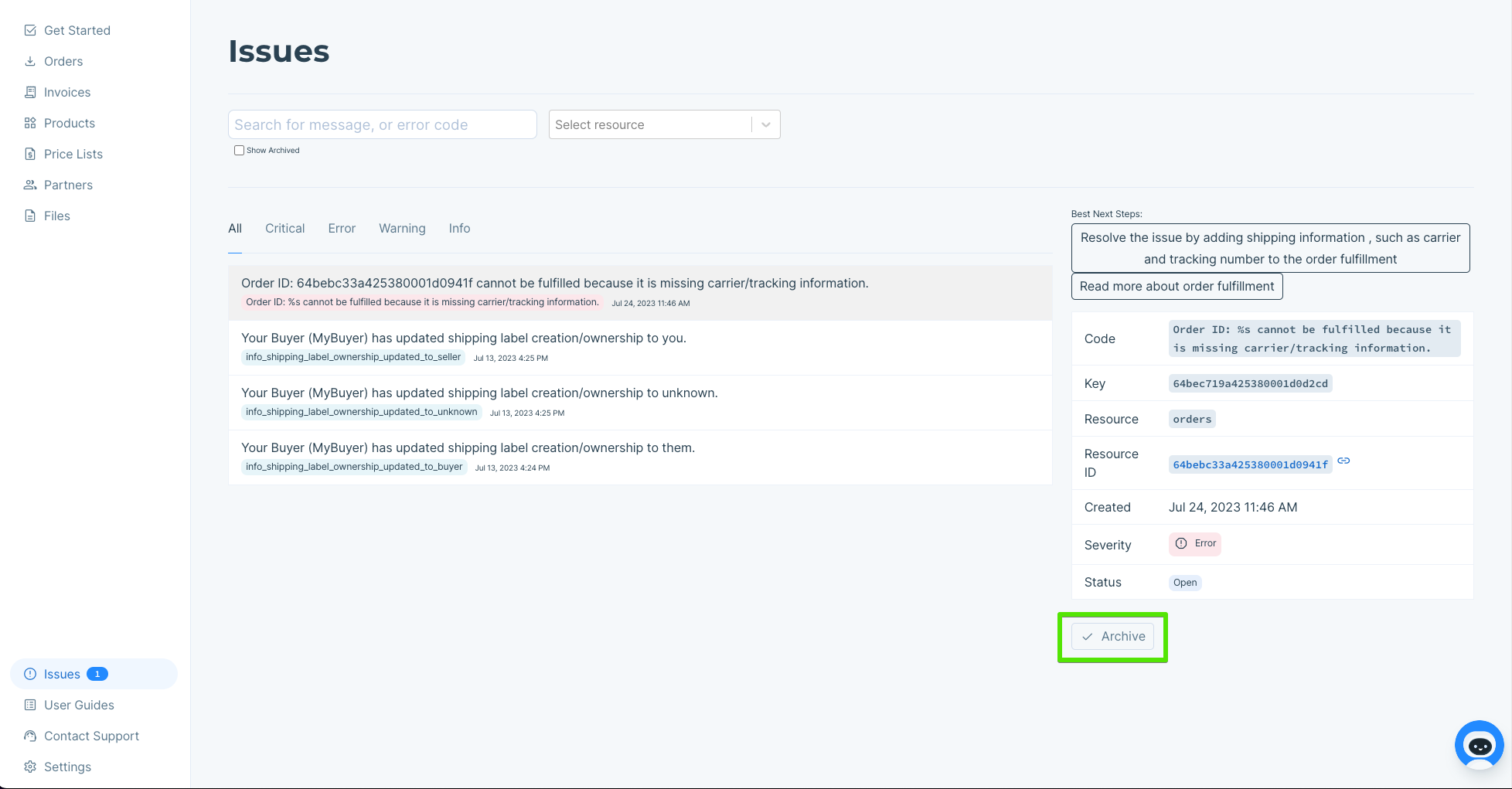 SELLER ONBOARDING COMPLETE
____________________________________________________________________________
FAQs
Ongoing product maintenance tips:
If you are updating product details such as the description or product images you will need to have your partner de-select and re-select that product in their Convictional dashboard to sync those changes to their ecommerce platform.
Changes to the retail price of a product may affect your price list depending on the settings.  Be sure to carefully review the section on setting up pricing before pushing price changes from your ecommerce platform.  This is especially important if you are putting products on discount for your customers but do not want that to sync to your partners.  Any price changes you want to sync to your partner should be communicated to them explicitly.
When adding new products to your catalog and syncing them to Convictional, always check to make sure they have been added to a price list assigned to the partner you want them synced to.  Depending on your price list settings, they may not sync automatically.
Processes to avoid:
Never add or remove variants from a product in your ecommerce platform if it has been synced to Convictional.  This may result in an 'item not recognized' error
Never cancel an order in your ecommerce platform without communicating that explicitly with your partner.  Orders that are canceled will automatically refund the buyers customer so you should wait for approval from your partner before taking this action.
Never fulfill an order without including both a carrier name and tracking number.  This order status will not successfully update in Convictional and instead return an error.