Promotional Price Lists and Discounts
Promotional Price Lists and Discounts
Updated by Becca Crandall
Offering discounts
During holiday seasons both vendors and retailers will be offering product discounts to their customers in a variety of different ways. When it comes to managing promotions it's important to consider how you are discounting products and whether you want to share those discounts with your partner on Convictional. While there are many ways that ecommerce platforms allow discounts to be applied, the best way that those discounts can be shared between your partnership is by creating a promotional price list.
Sellers: If you are adjusting the retail price on your ecommerce platform and
do not
want to share those discounts with your partner, please ensure the
Ignore Product Updates
setting is toggled to 'off'.
Creating Promotional Price Lists
For promotional discount periods, sellers can make a new price list to cover promotional pricing. Simply follow the same steps to create a new price list, and adjust the Suggested Retail price to the discounted values. For partnerships who are splitting the cost of the discount, the Dropship Price (listed as 'You Earn') can also be adjusted in the price list to accommodate the discount.
The new price list should be applied during the promotional period. When the promotion period is complete, simply switch back to the original price list in your Partner page. Once the price list is selected on the partner page, the prices will sync within 1 hour to the retailer's system.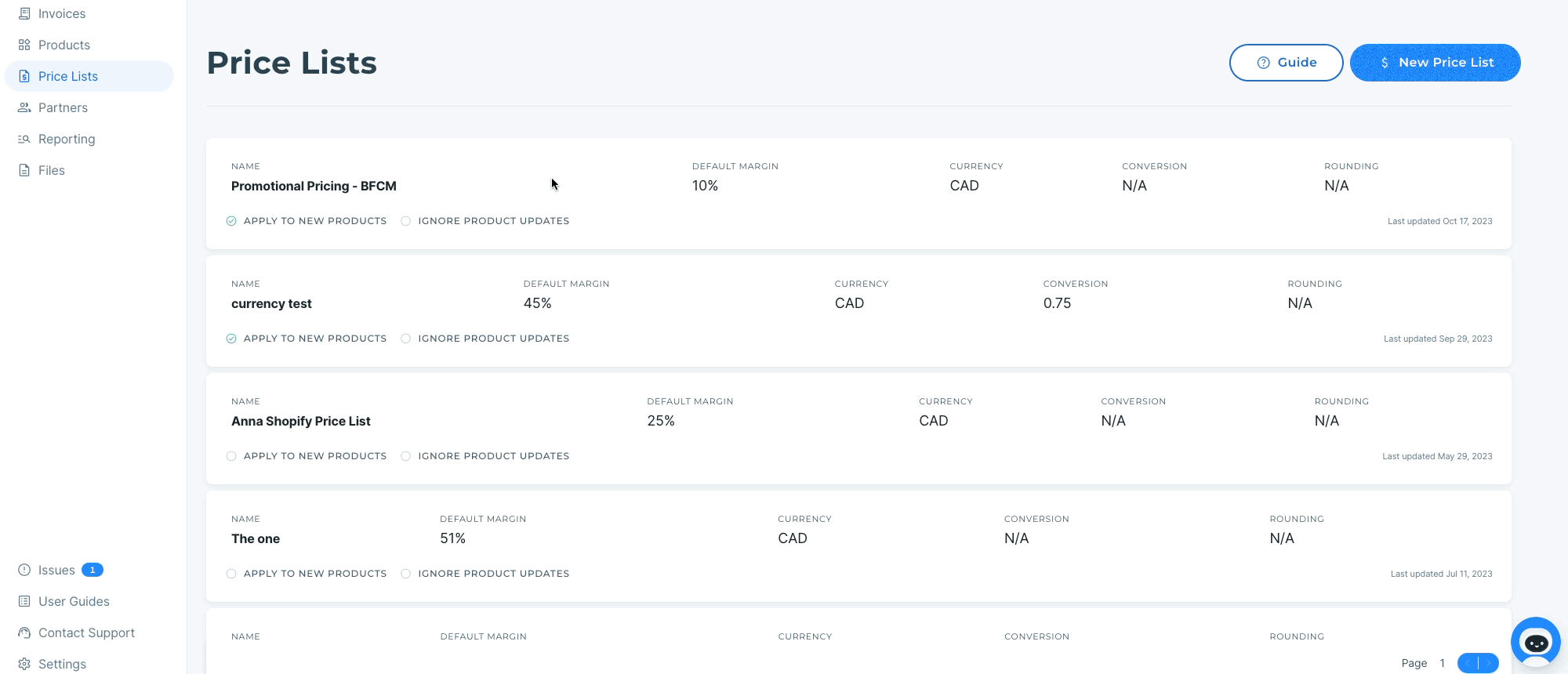 Discount Codes and Automatic Discounts
If you are offering a discount via code, or automatically applied at the checkout and you would like to share this with your partner you will need to have them recreate the exact same discount in their own ecommerce platform. The benefit of doing this is that you can use the existing price list assigned to the partnership by only adjusting the Default Margin to account for the reduction in the retail price the product is being sold at. Once you have discussed the discount strategy with your partner and they have scheduled the automatic or discount code to be applied during the timeframe of the sale, you can adjust the amount that the vendor is paid for all products in the price list by increasing the Default Margin. Increasing that margin means the vendor will be paid less for the fulfillment of this product so ensure that the discount being applied in the retailers storefront is proportional to the discount offered by the vendor.
If you are unsure of how to execute your existing discount strategy please reach out to support@convictional.com and we will assist you in ensuring the setup is done correctly.