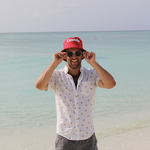 Updated by Kyle Tymoszewicz
If you are not using a platform which directly integrates with Convictional, data can still be shared through our SFTP server. This enables users to share data with Convictional by securely transferring files to us using an SFTP client. Once a file is transferred we will automatically process and load the data into our platform.
We are actively building out our SFTP capabilities. If you have any questions or feature requests, please reach out to us at support@convictional.com.
Connecting via SFTP
Provided below is the information needed to establish a SFTP connection:
Host: sftp.convictional.com
Port: 2122
Directory: /
Credentials: contact support@convictional.com to receive login information (username + password).
The directory is the home directory (e.g. /) because our SFTP service is a virtual SFTP service backed by Google Cloud Platform. Our service can infer details about the file and process it independently of the SFTP entry point, so we don't use folders.
File Formats
We currently support processing CSV files.
Products
When importing data through CSV we need to build an understanding of how your information can be represented in our system.
Please use the product template linked here which you can use to specify mappings between your CSV headers and ours.
This products CSV must also be uploaded to the FTP server.
Note: If you do not include inventory levels in your Products CSV (recommended), you will need to upload a separate file including both inventory levels and Product SKUs.
Price List
Once the FTP feed and products have been created, a price list must be created. See How to Set Up Pricing.
Partnership
The final step is to assign the price list to your buyer. See Adding Partners.