Updated by Jessica Powell
Before you can start trading with customers via Convictional, you need to invite them to our network. Here's how you can do that:
Create a Partner
The first step is to create a partner. There's two ways to do this
A) Find Partners in the main menu, then click Create:

B) Click "Invite Partner" from the quick actions menu from any screen: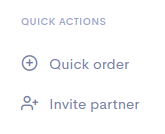 Partner Setup
A new screen will pop over, giving you the ability to create a partner.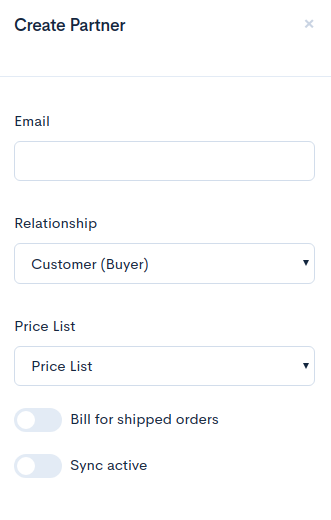 You'll need to:
Add your customer's email
Select "Customer" as the relationship type
Assign a price list for this partner, usually labelled with their company name
Toggle on Bill for shipped orders if you want to invoice in Convictional
Toggle on Sync active
Invite Partner
The last step is to invite the partner. In most cases, it makes sense to Create and Invite your partner at the same time. If you don't want to invite your partner right away, you can always come back and invite them later by clicking Create:

Next Steps
Creating a partner is the first step in trading with your customer. Your partner will receive an email invite, providing them with a way to join the Convictional network and start trading with you. If they are already in the Convictional network, they will need to add a partner for you as well.
Note: If your customer is already part of the Convictional network, you have two options. If you are just joining for the first time, they will send you an invite link you can use to get connected automatically. If you are already a member of the network and they are too, they will create a partner for you, and you'll need to create one for them. Complete the 1st and 2nd steps above and you'll be trading with an network member in no time.