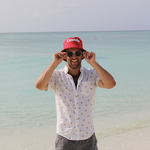 Updated by Kyle Tymoszewicz
Customer Updates
The purpose of the Customer Updates document is to ensure that our customers are aware of the new features and functionality that we are releasing based on their feedback. Each update contains a 1-3 sentence description of the feature and is categorized by month.
August 2020
Search Filters 
Products can now be searched for by product code or title. 
The brand dropdown displays your entire roster of sellers for creating seller-specific catalog views. 
Bulk Actions
Bulk actions are now available for many of the functions within Convictional, such as selecting products and retrieving packing slips.
Combined with the brand dropdown, bulk actions can be applied to specific sellers (such as selecting their full product catalogue). 
See Selecting Products for our guide on using bulk actions, filters, and the brand dropdown. See Packing Slips - Buyers for bulk slip downloading. 
July 2020
App Relaunch
We launched the new version of our app, with plans for filters, reporting, bulk actions and more coming soon.
As a result of the relaunch, the new app is faster to load and more secure. 
Improved Usage
The app relaunch also improves and automates quality checks. Now, bots will test every action in the app with each change we make to confirm it works as expected.
Error messages that may occur during product and pricing upload were re-written to be as readable as having a conversation. The API now speaks the language of your sellers.
Our team now has visibility into what is happening in the app, so if you or your seller partners run into trouble, we will get a notification and be able to follow-up faster.
SOC2 Type II
We're starting the monitoring period of SOC2 Type II certification. The program covers best practices in security, data integrity, availability, confidentiality and privacy.
June 2020
Marketplace Knowledge
May 2020
Seller SLAs
Buyers can now set and enforce service level agreements with their sellers. 
Both ship times and return rates can be measured on a per-seller basis.
See Adding Seller Service Level Agreements for more details.
Stripe Invoicing
Sellers can now access their PDF versions of their Stripe invoices directly in Convictional.
Invoices are accessible through the Orders tab. See How Invoicing Works for further details.
Packing Slips
Packing slips are a sheet of paper inside the box of an ecommerce order describing the products contained inside.
Buyer-branded packing slips help enable blind dropship relationships with customers.
Sellers on ecommerce platforms receive a URL to a printable PDF in their platform (ex: Shopify, BigCommerce, WooCommerce).
Non-platform sellers can access them in Convictional's Orders tab.
Passwordless Login
Passwordless login means never having to remember a B2B portal login password again.
It's more secure, easier to use, and allows the partners you invite to create their account simply by clicking the invitation link you email them.
Sign-in to see passwordless in action.
B2B Buy Buttons
B2B buy buttons are a way for sellers to include a button on the page of each product on their website.
Sellers (vendors) can feature their Buy Buttons and instantly start a conversation with buyers (retailers) who are looking to sell the seller's products.
Once connected, it's a matter of clicks until the seller can be listed on the buyer's storefront and begin selling.
To learn how to add a buy button to your store, follow our buy button guide.
Multi-User Accounts
Multi-user accounts means that users within the same organization can simultaneously access Convictional through their own unique email addresses.
Combined with Passwordless Login, each Convictional user can now authenticate through their own email and has their own visibility into the platform.
Multi-user accounts are available for all Convictional customers. To add new users within your organization, head to Settings to invite them via email.
April 2020
Terms Payments for US Buyers
Buyers can apply for 30, 60 or 90 day payment terms for all orders in the Convictional network in one click, automatically payout sellers the day they ship, and take up to 90 days to pay the bill.
There is a sliding interest scale ranging from 3-6% (but eliminates the costs associated with credit card processing on the seller side, making the scale more like 0-3% of the cost of the goods in practice).
This means buyers can sell products to consumers well before they have to pay for them, putting buyers in a virtuous cash cycle of being ahead on cash. Buyers can apply for terms in the Settings tab and clicking "apply for terms payments".