Wholesale Guide for Buyers
Updated by Keith Weaver
A step-by-step guide for setting up your Convictional buyer account to request wholesale quotes. This guide supports connecting through the Convictional app.
By purchasing wholesale inventory on Convictional, you'll enjoy the same seamless onboarding and automation benefits you get when dropshipping with your vendor partners on the platform. You'll get products on shelves faster by eliminating weeks of email back and forth to complete wholesale orders. Your margins will grow from taking inventory positions with proven dropship suppliers, while moving higher inventory risk products to dropship fulfillment. Finally, you can enjoy the convenience of onboarding new wholesale partners in days -- just as you already do with dropship.
Step 0: Getting Started
This guide is set up purely for buyers. You can find the seller's guide here, and the "how to check account type" here. If you haven't already signed up for a Convictional account, sign up now. It will be required for this guide. For now, you can request a quote and submit an order through the Convictional App. Our Buyer-side API, EDI, and Shopify integrations will be addressed in the future.
Should we be using the same Convictional account for both dropship and wholesale?
As a buyer, we strongly encourage you to use the same account for both supply models. The seller will only have to configure products once, and set up independent prices for each model on one price list. You can maintain the relationship through one partnership.
One common use case is leveraging Convictional's wholesale to get bulk discounts on common products, and using Convictional's dropship program for less common variant options (Ex. Sizes or colors).
What if I am connected through Shopify?
As of right now, your orders coming from Shopify are purely dropship. You can still use the Convictional app or Buyer Order API to manage wholesale orders. Your Shopify integration will continue to work for Dropship.
What if I am connected through EDI?
Similar to Shopify, our team is actively evaluating and gathering customer feedback. Please reach out to our team and we will add you to the waitlist.
Step 1: Trading Partner Sets Up Pricing
The first step is the responsibility of your seller and doesn't require action on your part. First, they'll need to create a new price list in order to use wholesale and dropship functionality. Our recommendation is for the seller to create a new price list and not update an existing one. To do so, they will navigate to the "Prices" section, and hit "Create Price List". As a reminder, buyers cannot access their seller's price list page.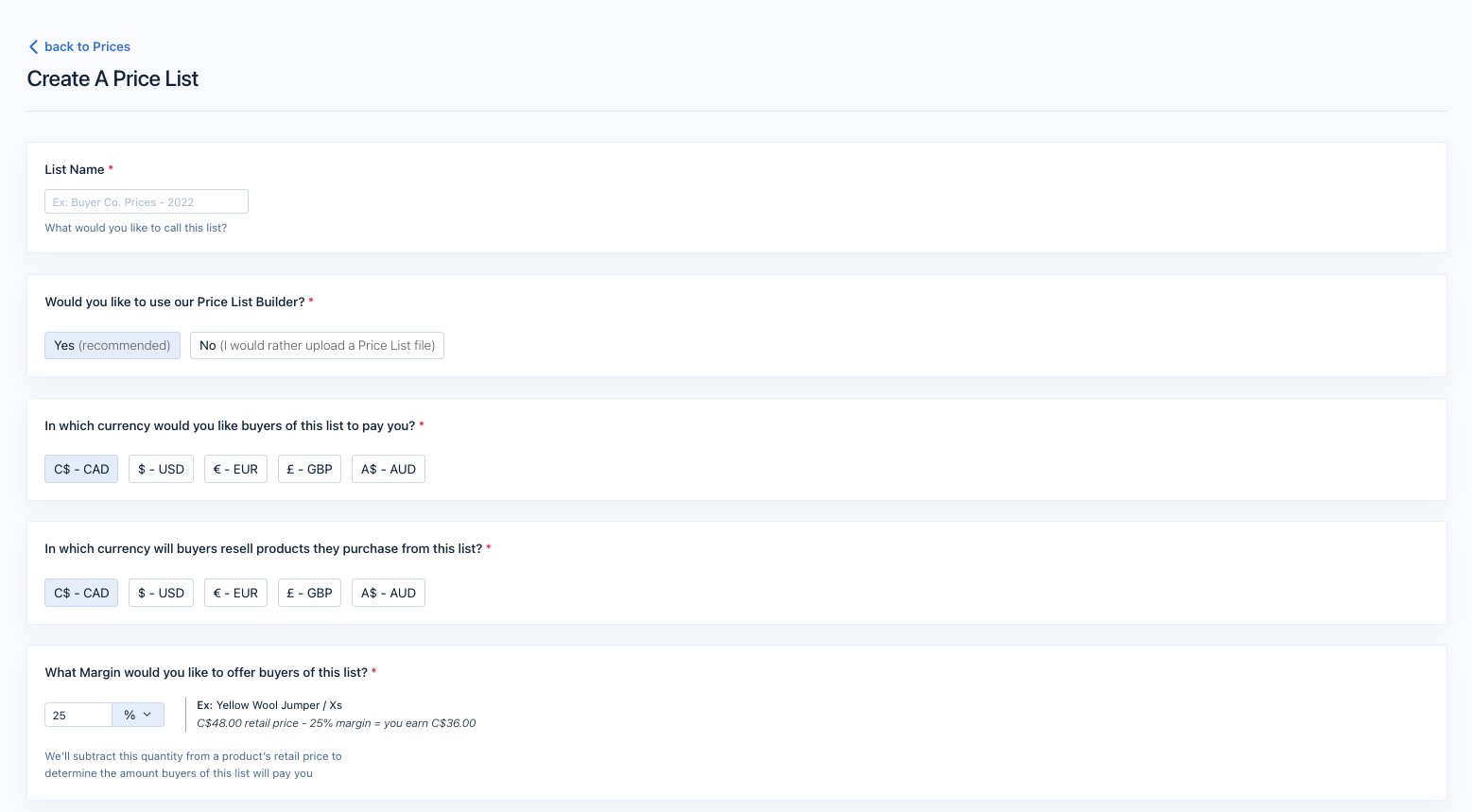 They will provide all of the information and set prices for each variant. The seller can set both volume based discount prices for wholesale. The dropship price is required.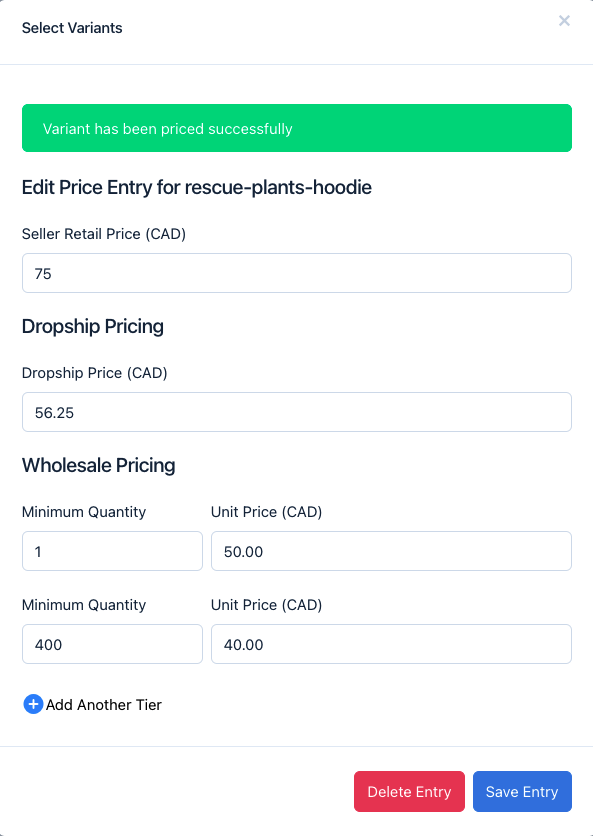 Once set up, they will assign it to your partnership.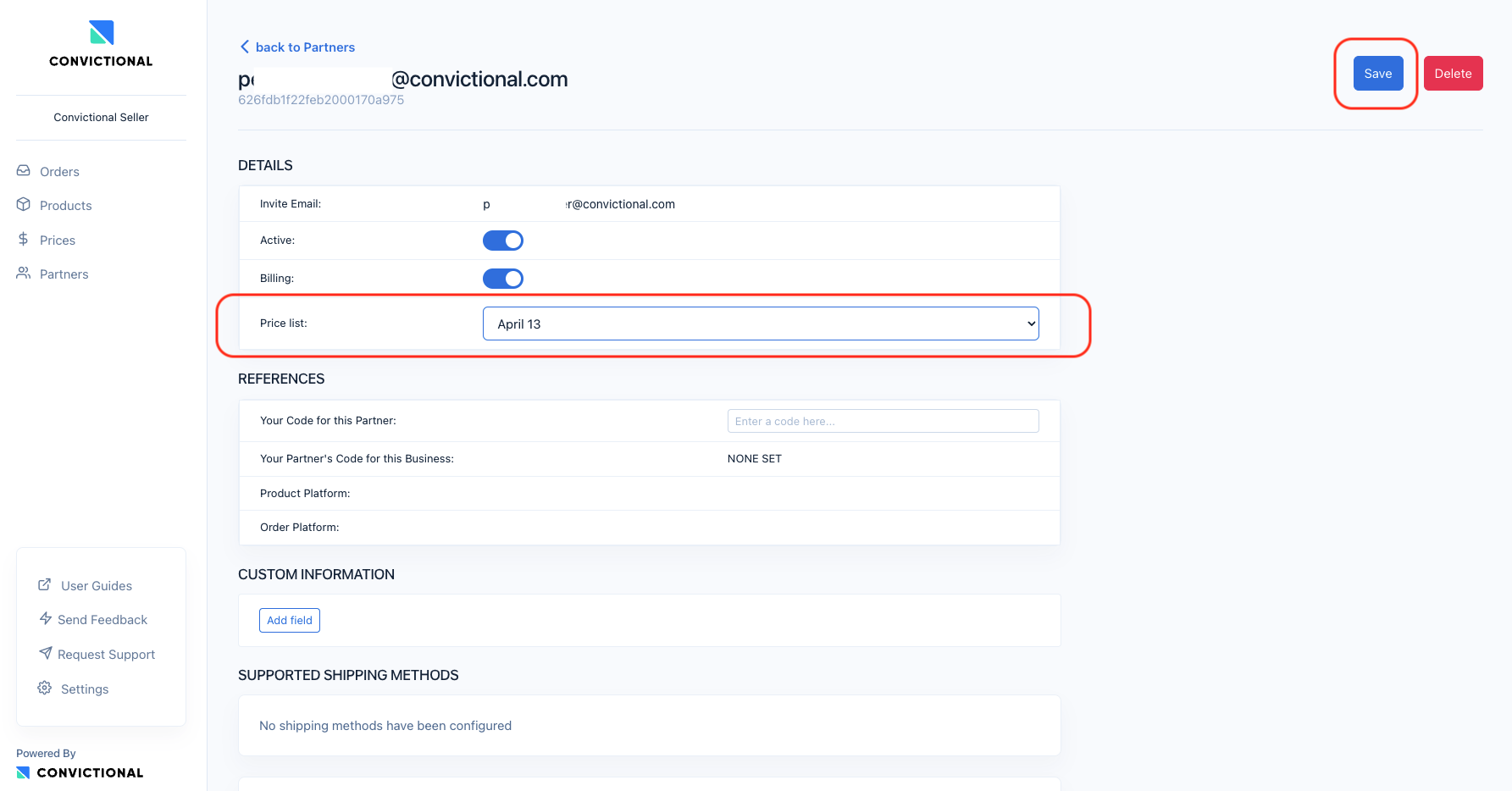 What about my existing dropship price list?
All price lists that are used for dropship will continue to work as is. We have updated the look of the page, but it works in the same way.
Step 2: Requesting a Quote from the Seller
Once you are ready to request your first wholesale quote. The flow for orders is as follows:

This process will continue to evolve to be more of a back-and-forth flow. Currently, if a seller wants to request changes to a quote, they can reject the request and include a note in the rejection explaining the expected changes.
Build Quote Request
In the top right corner of the quotes page, click "Request Quote".

The first step in requesting a new quote is selecting your partner. A quote can only be associated with one partner. On the right side, you can see the next button and a quote summary. This will carry through each step of the quoting process.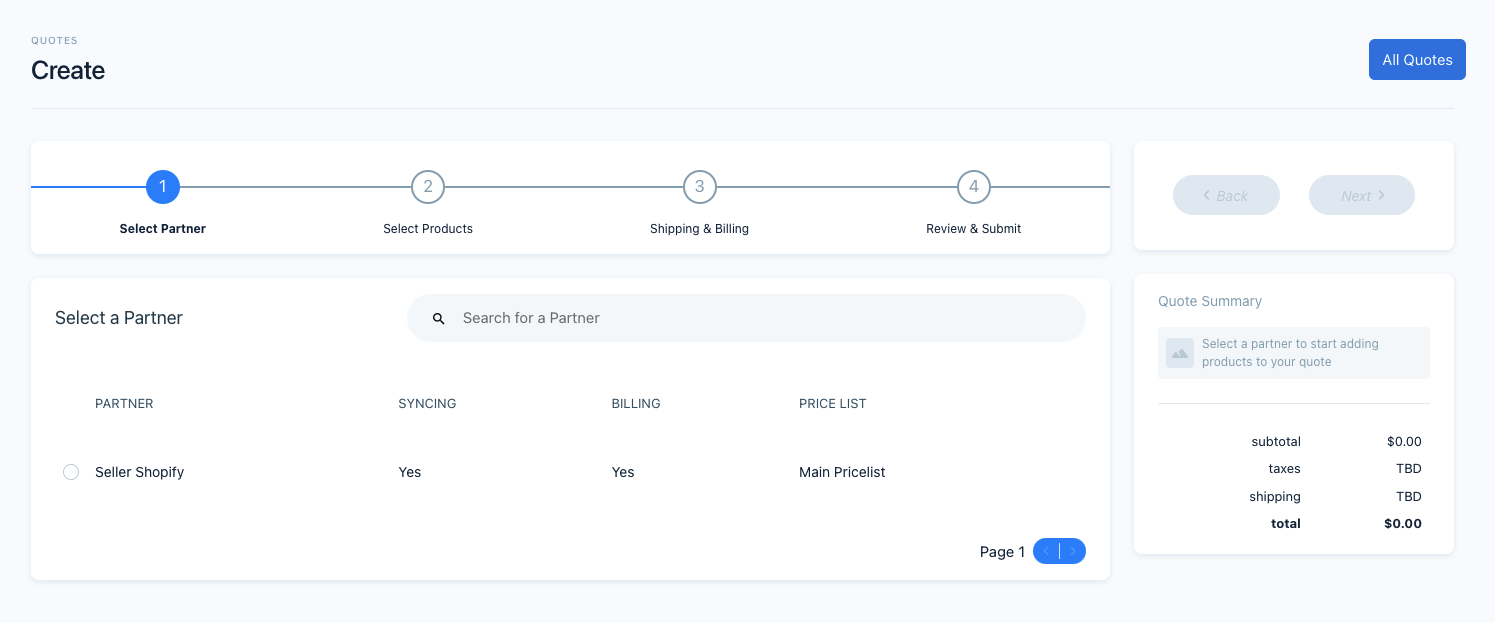 The second step of the quoting process is selecting products. You can select the product, view the variants and input the desired quantity.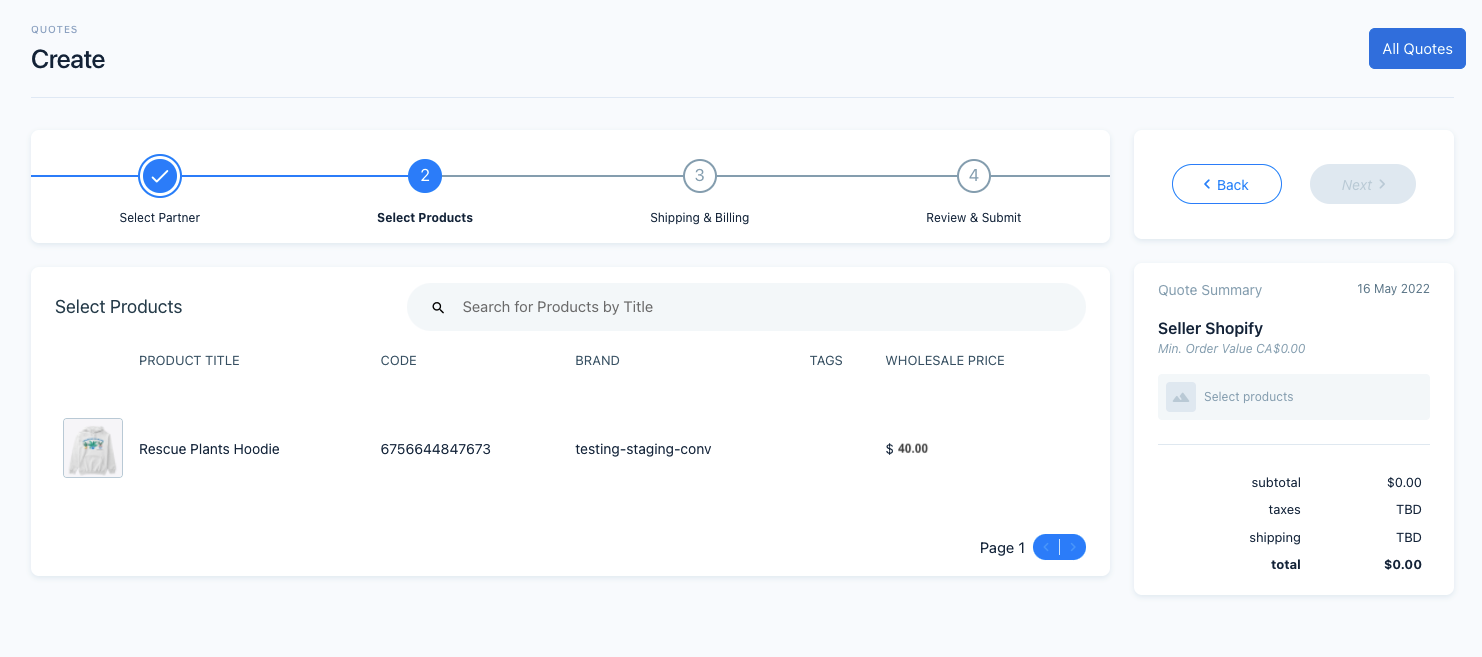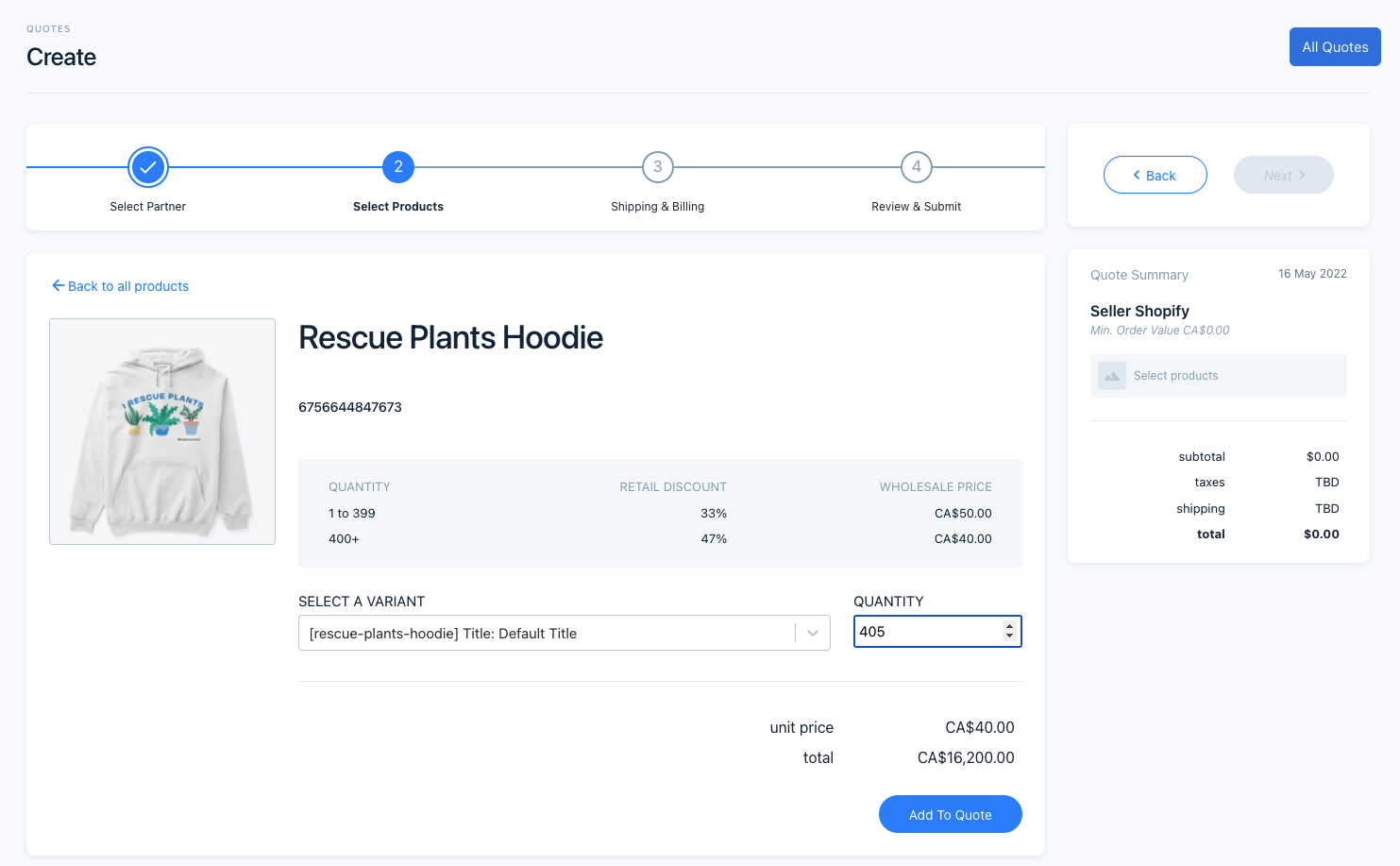 If the variant isn't priced, you will see the alert below. You can resolve this alert by requesting your partner update the assigned wholesale price list.

The third step of the quoting process is for you to add in shipping and billing information. You can manage your locations under set in Settings > Locations. Using the "Edit" select, your location.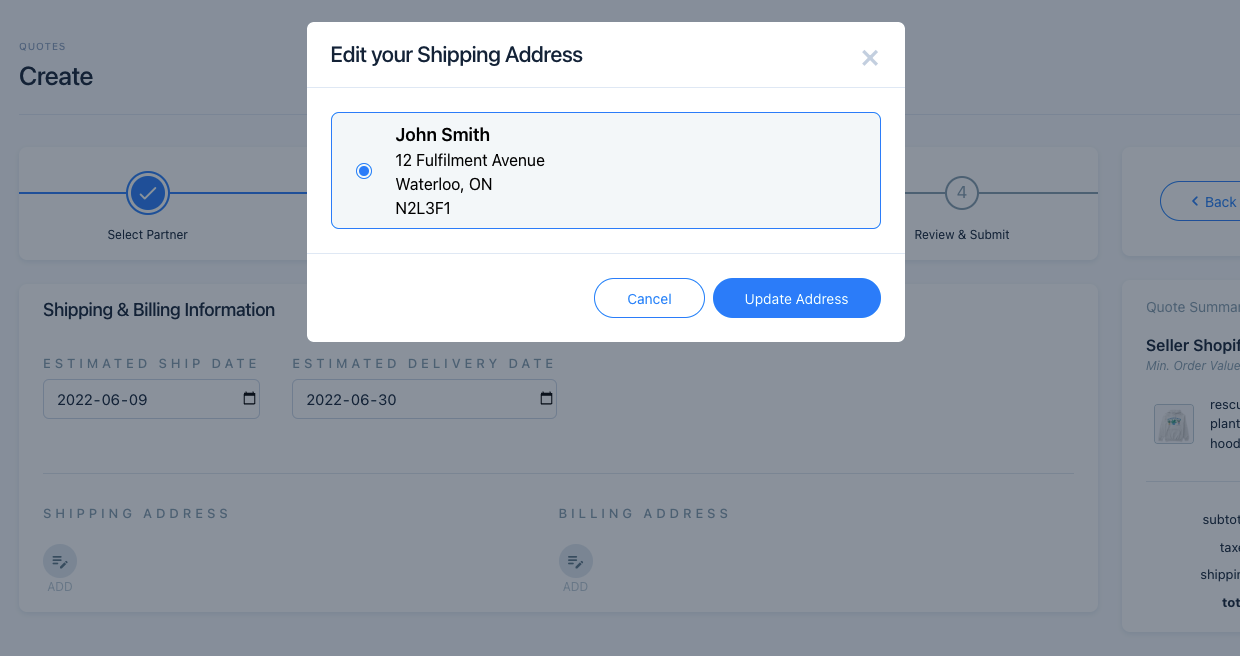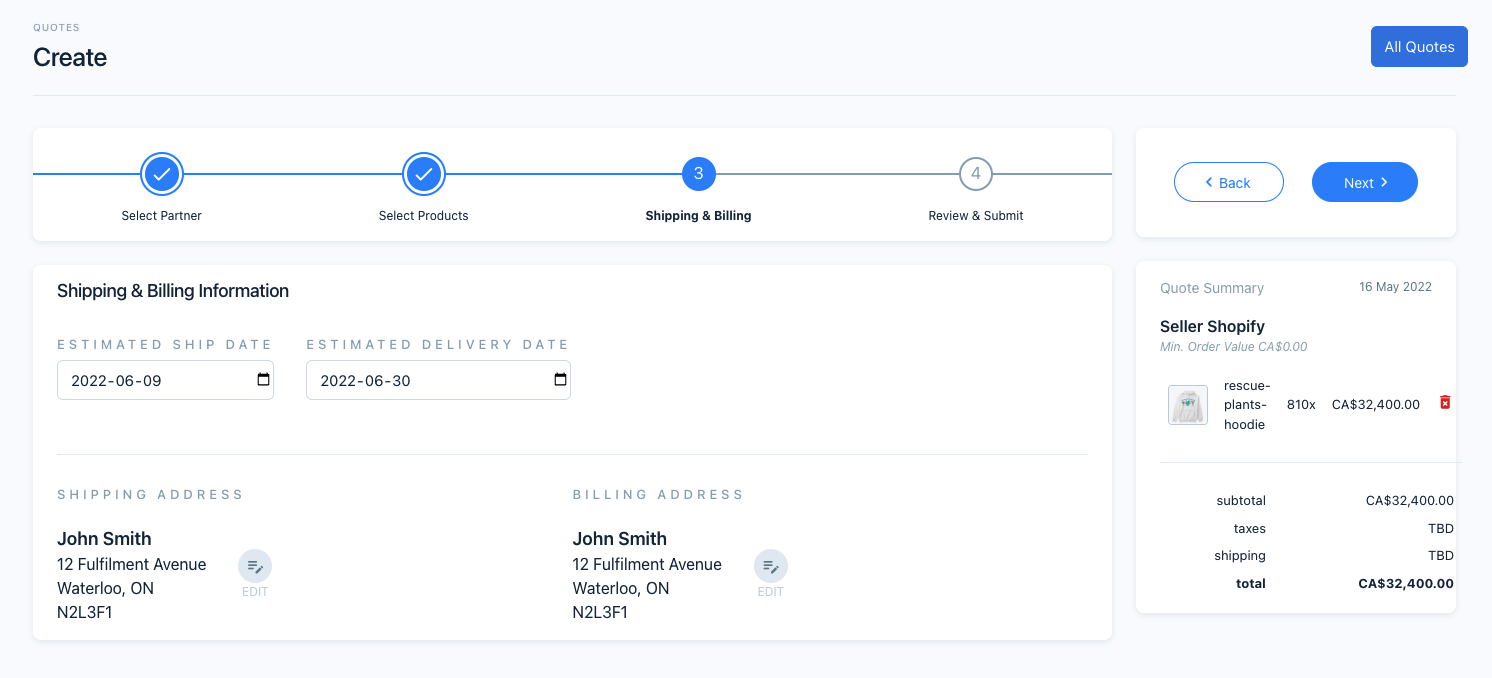 Estimated ship date is the date you intend for your Seller to ship the product from their inventory location and begin transit to your shipping address.
Estimated delivery date is the date you would prefer to receive the products from your Seller.
Submit Quote
Finally, review the details of the quote. Once you hit "Request Quote", we will notify your partner of the quote via email. They can sign into Convictional and review the details of the requested quote. They will either accept the quote or reject it with a reason. If they accept, this will generate an order.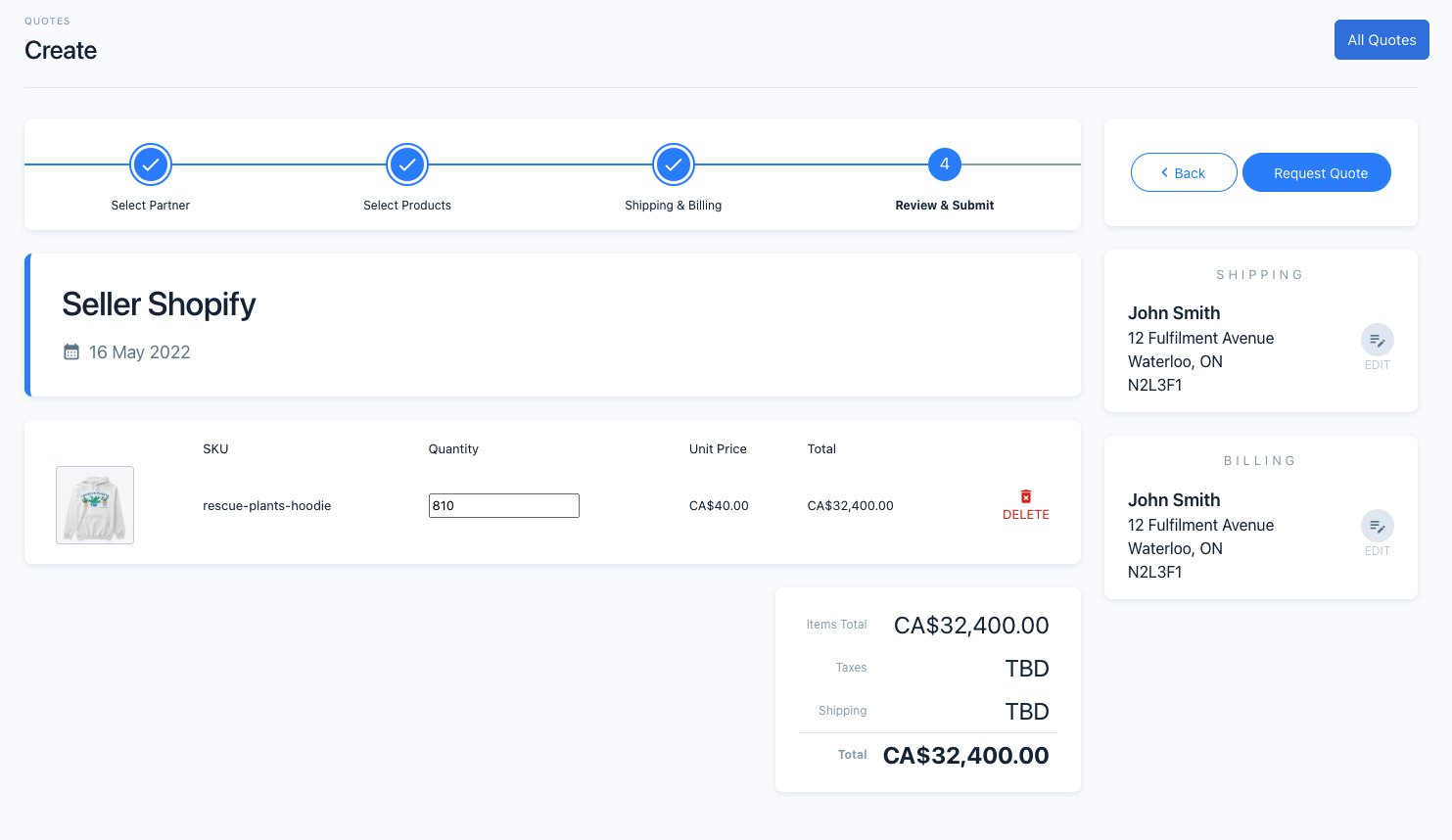 You may notice that the Taxes and Shipping line items are to be determined (TBD). These values will be provided by your seller in the next step.
You can navigate back to the list of quotes at any point, select a quote and view the status of it. On the right side, you will see its status. This is also how you can cancel a quote.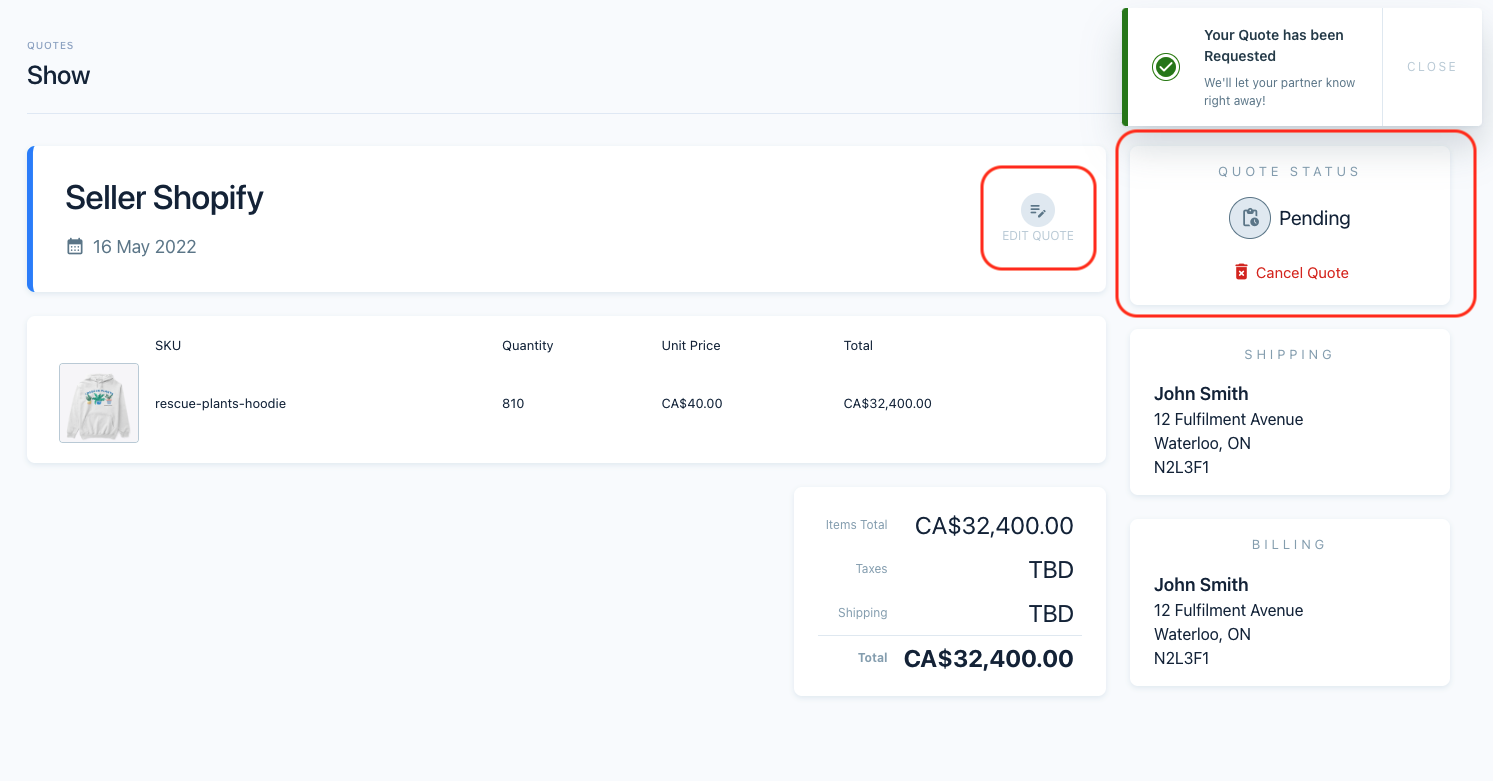 In terms of editing the request for quote, clicking "Edit Quote" will enable you to modify the items included in your quote as long as the quote status is still "pending".
Once a quote is accepted by your seller it will convert to an order and can no longer be edited. You can still cancel the order as needed.
Review Quote (Seller View)
For your reference, this is the seller's view (sharing context). On the left side, they navigate to "Open Quotes" and will be able to see your quote. They can select it, review it and approve it. Here is a full guide for Seller's.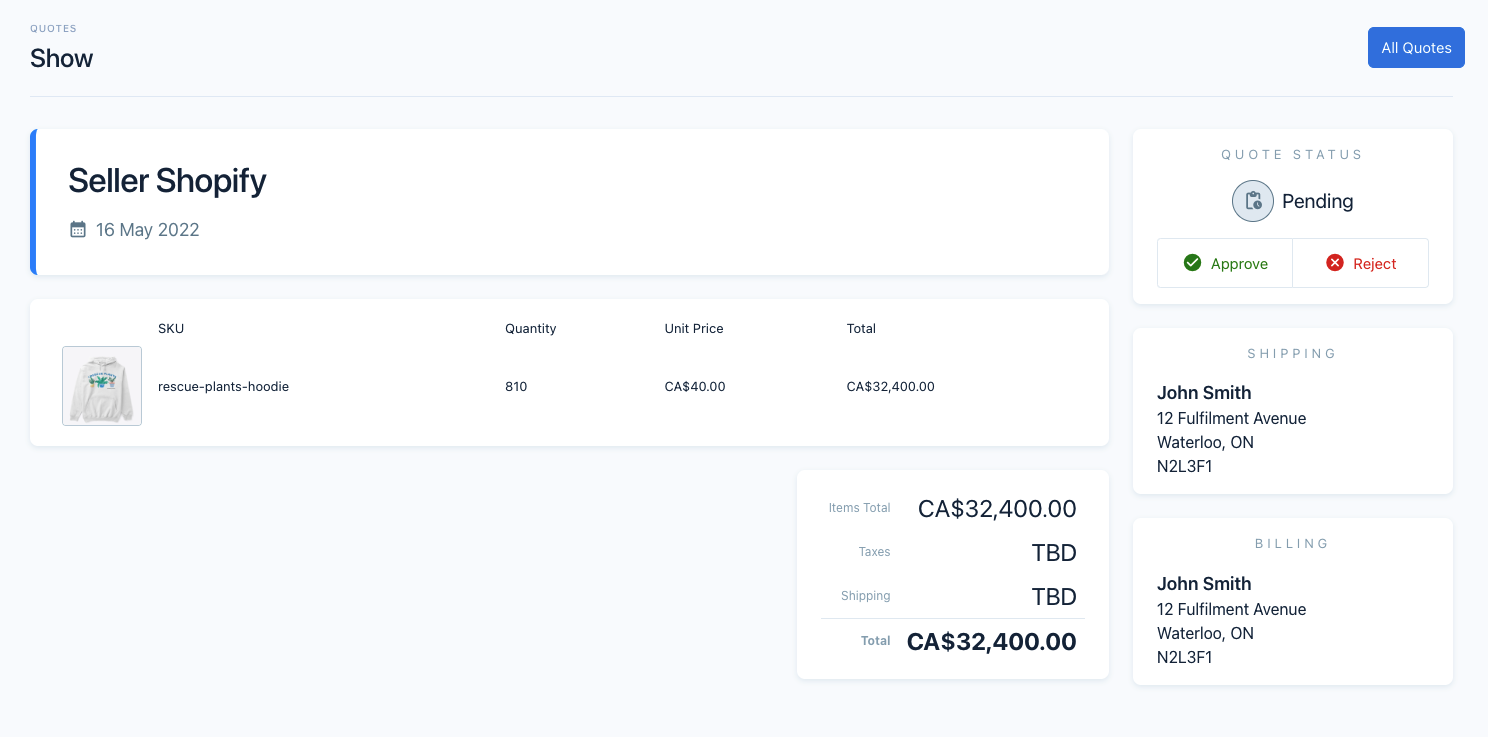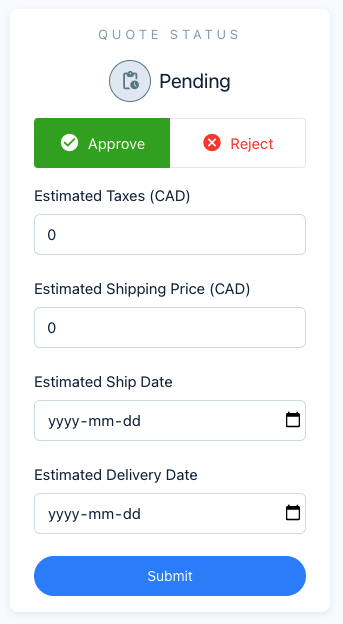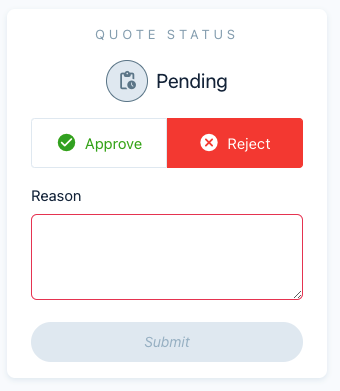 Order Created
When the quote is accepted, the Convictional platform will convert the quote into an order. You will be able to view the order on the orders page.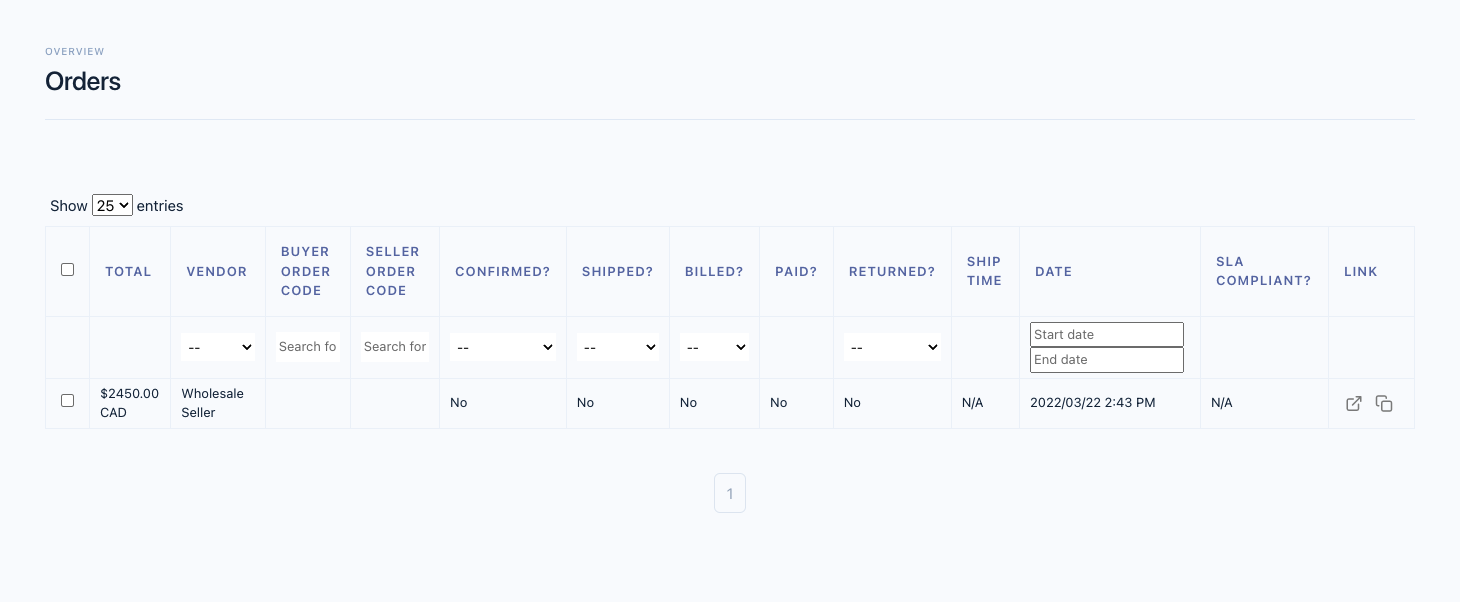 Am I able to update the buyer order code to match my order management system?
No, you cannot. The buyer order code is pulled from wherever the order originates and used as a reference to avoid double processing orders. In this case, the buyer reference or buyer order code is created from the UI and the quoting process.
Step 3: Fulfillments & Invoicing
Both fulfillments and invoicing will go through the same standard method. Order's created in the Convictional app will not be posted to any platform. API connections will be able to access the fulfillment information within the order.
Step 4: Repeat!
That is the buyer side of wholesale. Thanks for reading!
If you have any feedback, please share it with our team.