Updated by Jeremy Tupper
Convictional provides status information about seller relationships in the admin. You can see how far along vendors are in the onboarding process at any time by viewing the status of the vendor. 
Finding Seller Status
To find the status of a vendor, go to Partners, then choose the vendor you want to check: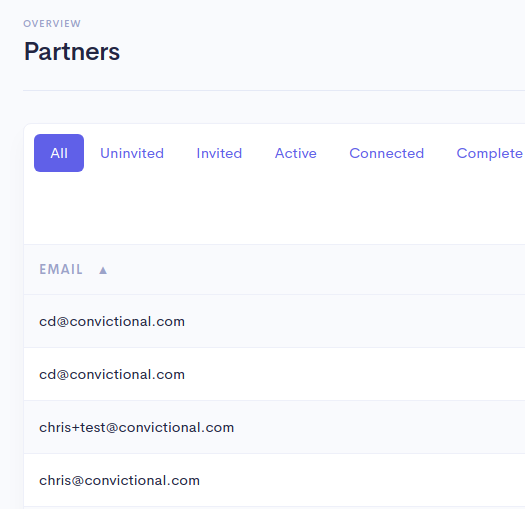 Assessing status
Once you have chosen a vendor to check on the status of, you'll see the status on the right: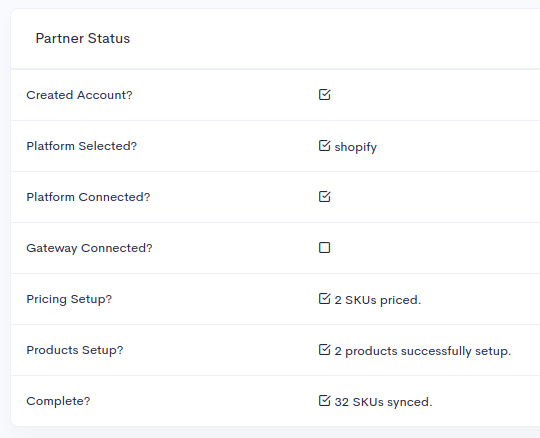 This will give you a complete picture of how far along the vendor onboarding process your vendor is. Here is more information about what each dimension means and where people sometimes get stuck:
Created account: This means the vendor has an account in the Convictional network. If they don't, you might want to encourage them to watch for your invite email and complete the sign up process.
Platform selected: Most vendors use Convictional as a way of enabling integrated trade. So in most cases, your vendor will need to setup that integration. Platform selected means we have the information we need to integrate with them (what the platform is and any other relevant fields). If they haven't done that, it will show as false.
Platform connected: This indicates whether or not the vendor has integrated their system into the Convictional network. Depending on the platform there could be more or less work involved. We offer support documentation for every integrated platform in the integration section of the help docs. You can find and share that here. 
Gateway connected: This indicates whether the vendor has connected their payment gateway for the purpose of automated or manual billing against your account. If this is not selected, it means you will likely get invoiced separately from the vendor and will not be able to automate payouts to the vendor from within the network.
Pricing setup: The key step when setting up a new B2B channel is providing pricing information about what price to use at retail for consumers and what price you will be paying the vendor. This indicates whether a price list has been assigned to your partnership, and how many SKUs have been priced out as part of that price list.
Products setup: Products are typically shared through Convictional and it can be helpful to understand how many exist within a vendor catalog. This gives an indication of whether they have setup products yet, and how many.
Complete: This gives an indication of how many products have been synced through to your commerce platform. This is the final step in setup and indicates that they have completed the onboarding process with you as a channel. If the number here differs from the number on the price list, it could mean some products are out of stock. That can be confirmed in the Convictional admin, under products. It could also mean they are missing key data (SKU information in particular). We will notify them to resolve validation issues like this.