Updated by Jessica Powell
Signing Up
To create a Convictional account, visit our sign up page.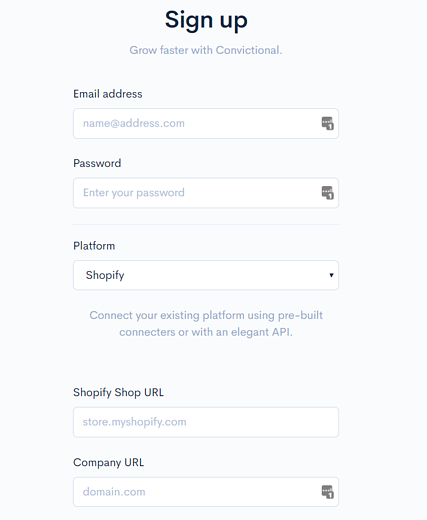 Account Information
Creating a Convictional account requires a few pieces of information:
Email: The preferred email to receive order information with. (ex: orders@, customercare@)
Shopify Shop URL: The URL for your Shopify store. (ex: company.myshopify.com)
Company URL: The URL for your company's website. (ex: company.com)
Shopify is the only ecommerce platform we currently support for self-serve buyer accounts. If you are using another platform, please contact 
Sales
Next Steps
Once you've created an account, it's time to fully connect your platform.
Our guide on connecting your Shopify platform is here. 
Reminder: Before your buyer account can be fully used, you will need to email 
support@convictional.com
 to have them finalize the account setup process. In order to help our support team, please provide the email address used to sign up, and specify that you are interested in setting up a buyer account.